Organizam calatorii si croaziere in Norvegia.
- // -
Suedia
, Finlanda si Rusia in vederea acordarii de drepturi de a fora companiilor specializate straine. Potrivit ministrului norvegian, Marea Nordului, situata intre Scandinavia, Insulele britanice, Belgia, Franta, Germania si Olanda ar putea apoi fi conectata la Marea Barent prin conducte ce ar aproviziona Europa cu gaze atat din Rusia, cat si din regiunile norvegiene ale Marii Barent. Foraje pentru identificarea rezervelor de gaze si petrol au fost efectuate in ultimii ani in zona de catre Rusia si companiile mari americane. Rusia a anuntat deja ca intentioneaza sa construiasca un gazoduc din Marea Barent la Marea Baltica, de unde poate fi conectata la o alta conducta ce ar urma sa aprovizioneze cu gaze Germania.
- // -

Importam si transportam snaptul norvegian, Linie Aquavit, in Romania de doua ori pe luna !
- // -
In urma publicarii unui articol mai putin conformist si deloc magulitor la adresa "cuiva anume" in cotidianul norvegian Aftenposten, Jostein Gaarder – profesor de filozofie, jurnalist si scriitor foarte popular in Norvegia -, s-a ales cu un scandal.
Scandalul a fost declansat de afirmatiile sale cu privire la nerecunoasterea statului Israel si de comparatiile - destul de taioase - intre acesta si fostul regim al separatistilor albi din
Africa de Sud.
Intrucat disputa (interesanta pentru cei preocupati de libertatea
cuvantului) nu e foarte cunoscuta in afara tarilor din Scandinavia,
iar cunoscatori de limbi nordice sunt destul de putini, imi permit sa va supun atentiei traducerea articolului "imprincinat" :
"Guds utvalgte folk" ("Poporul ales al lui Dumnezeu") aparut sub semnatura lui Gaarder in ziarul norvegian Aftenposten.

Mai intai insa, un articol scris "la rece" de un alt cunoscut
jurnalist - de data aceasta suedez, Bjorn Lindahl - 4 zile de la
aparitia primului.
articol complet la......Altermedia.....
- // -
Noua Brazilie, pregătită de Carlos Dunga, a debutat cu o remiză, 1-1, în meciul-amical cu Norvegia, de la Oslo. Nordicii au ajuns astfel la patru partide fără înfrângere în faţa echipei cu cele mai multe trofee mondiale din lume.
Fără vedetele Ronaldinho, Ronaldo, Kaka sau Adriano, dar cu un prim 11 din care au făcut parte Daniel Carvalho sau Elano, noua Brazilie antrenată de Carlos Dunga a obţinut doar o remiză la Oslo în faţa Norvegiei.
Scandinavii au fost aproape de gol încă din prima repriză prin atacantul chinuit de accidentări în ultimele trei sezoane, Solskjaer, şi au deschis scorul la şase minute după pauză printr-un alt jucător din Premier League, Morten Gamst Pedersen. Aflaţi la primul meci după eliminarea din sferturile Cupei Mondiale, sud-americanii nu-şi mai permiteau încă un eşec. Atacantul lui ŢSKA Moscova, Daniel Carvalho, a restabilit egalitatea în minutul 62, iar goalkeeperul norvegian Thomas Myhre le-a salvat în final pe gazde de primul eşec în faţa Braziliei din ultimele patru dispute.
- // -
Pentru cei care isi doresc o alta destinatie decat tarile exotice, calduroase si pline de aceleasi povesti si imagini pe care cu siguranta le-au auzit deja de la norocosii care au ajuns primii acolo, tarile nordice ar putea fi o optiune interesanta.
In definitiv, cine ar alege tinuturile scandinave, inghetate mereu si aparent atat de neprietenoase, daca ar avea ocazia sa ajunga intr-un tinut cald ? Dar aceste tari necunoscute de multi ofera enorm turistilor care isi doresc sa le cunoasca, Norvegia fiind doar una dintre ele, dar si cea mai interesanta si fascinanta.
Nu intamplator Norvegia se numara printre tarile considerate adevarate comori ale lumii prin numarul mare de situri incarcate de istorie, care marcheaza rolul jucat de acestea in istoria lumii.
Sunt nenumarate obiectivele turistice care trebuie vizitate in aceasta tara. Unul dintre cele mai importante este biserica din lemn din Urnes, plasata in superbul decor natural de la Sogn og Fjordane. A fost construita in secolul XII-XII si este un exemplu extraordinar de arhitectura scandinava traditionata, reunind elemente de arta celtica, traditii vikinge si structuri romane...
...articol complet la
Hotnews.ro...
- // -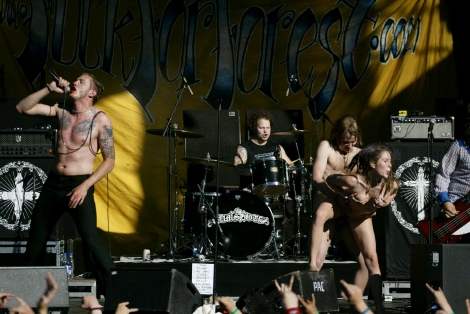 In acest an Formatia CumShots nu a mai socat publicul la Festivalul de muzica de la Oya din Norvegia. Anul trecut formatia de muzica rock, a devenit faimoasa in toata lumea performind un act sexual cumplet , pe scena in fata a mii de spectatori si telespactatori norvegieni
Bandet med det sigende navn 'Cumshots' blev for to år siden verdensberømte, da de lod et ungt par have fuldbyrdet samleje på scenen under deres koncert. I år var bandet programsat til at åbne den store norske musikfestival - Øye-festival - men de holdt sig pænt i skindet og beholdt tøjet på.
Nøgent par havde samleje på scenen , traducem gratuit
Se flere fotos af samlejet / Pentru mai multe poze din timpul spectacolului , click aici ...
- // -
Orkla Foods Romania si societatea-mama din Norvegia, Orkla Foods AS, au platit 16,3 milioane de euro pentru preluarea producatorului de margarina Royal Brinkers Romania, tranzactie per-fectata in luna decembrie a anului trecut. Astfel, Orkla Foods Romania a preluat 95,35% din capitalul social pentru un pret agreat de 15,53 milioane de euro, de la RBH International BV, inregistrata in Olanda, si 4,64% de la Brinkers Bernardus Hubertus Cornelis, pentru 757.000 de euro. Aceeasi persoana fizica a vandut 0,01% din partile sociale catre Orkla Foods AS pentru 582 de euro.
Anterior preluarii, Orkla si Royal Brinkers erau doua dintre cele mai importante companii producatoare de margarina de pe piata romaneasca. Tranzactia a inclus si firma de distributie a Royal Brin-kers.